Two weeks ago I got a text that no child wants to get. Dad. Rushed to Hospital. Chest Pains. Significant. This isn't our first rodeo with my dad's heart condition, but this one felt different for some reason. It felt more significant, it felt scarier, and, quite frankly, it felt urgent. So my brother and I left to visit our parents out-of-state. Thankfully, my dad is doing well and on the mend. This post is about the books I read while dealing with my dad's open heart surgery.
I talked about A Poisoned Season in my last post. In my fevered packing on August 1st, I decided to bring this book with me. I had finished it in July, but for some reason, I thought I completely forgot the ending. I finished reading it fairly quickly because I realized I did remember the ending, but Lady Emily was still there for me while I waited in the hospital.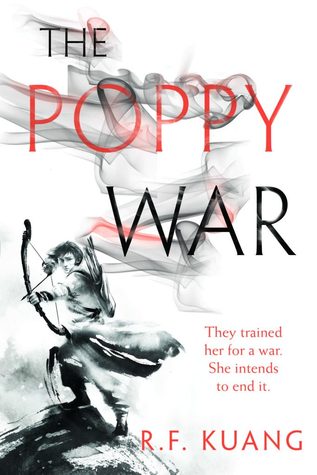 In general, I would not recommend reading the next book on my list while you're dealing with trauma of any kind, including waiting to find out the fate of a parent. However, I owed this book to someone who lives where my parents are now and, quite frankly, it was so completely different from my life at the time, that I'm glad I read it. I read it mostly while I was in the cardiac waiting room which was infuriating. (Seriously, who needs 15 people waiting for an outpatient surgery? Ugh.) The Poppy Wars is brutal, but a gripping story. I cannot wait for the next book in the series. Rin is someone who is complex (I can't decide if I like her or not) and the world building is spectacular in this book. This will no doubt be on every single list for the best fantasy debuts this year. Also, how is this book a deput? Where has R.F. Kuang been all my reading life!?!?
This next book, In High Cotton, came out while I was still in Texas, but I decided to get it when I got paid last week. I LOVE the both Rose Gardner Series and the fact that Neely Kate has a series just makes my heart sing. I think I love stories that have a great female friendship at the center of it and when its in a mystery book, that's even better! Also who knew that a small town in Arkansas could have so much organized crime?
Lastly, I started The Dime right before I let and I'm still working on reading it. I think when I finally started reading this one, I had reached my limit and had to stop reading for a little bit. However, that hasn't prevented me from enjoying it now. This book was recommended to me a while ago by several people and I'm excited I found it at my local HPB store a few months ago. I'm probably the last one to read this, but better late than never right?
That's all for this post. I'll talk more about this books in my August wrap-up. I'm not quite on track to hit my goal of 14 books a month, but I plan to spend this weekend resting and reading as much as possible. I hope everyone is doing really well and reading some GREAT books.
Happy Reading!
-KC-