This week, a friend of mine was asking what I was reading. I've been in reading rut all year almost and it's been a little tough. However, usually I pick up romance books to get me back into the habit of reading after a slump. I explained to this friend that I rank books on a level of spiciness. From cool they love each other to whoa hopefully no one sees me reading these in public. I thought it would be fun to use the Scoville Scale (used to rank spicy peppers) to recommend some of my favorite romance series for the people looking to read only the best parts or avoid them like I do sometimes. (Hey! We all have our tastes in books!)
---
#1 – Bell Pepper 0 – 100 on the Scoville Scale
Level of Spiciness: Well I guess they love each other now
Rank one is books that have little to no sex at all. Where even the mention of intercourse or sexuality is pretty much nonexistent unless they get pregnant. Sometimes, you just want a sweet book where people love each other.
On this level, I'm recommending The Three Girls Series by Rachel Schurig. I've mentioned these books before on the blog. I really enjoy the fact that the center of it is a great group of female friends that are real. They disagree, but they support each other's careers and love lives. I would say the fifth book by far is the most realistic and the least spicy, but the entire series is an arc so I would recommend starting from book one Three Girls and a Baby.  Some of Rachel's other writing is more spicy than this series, but it's not vulgar or anything if you want to check out her other titles.
---
#2 –
Jalapeno

– 1,000 – 10,000 on the Scoville Scale
Level of Spiciness: Things are heating up!
This rank is a little tricky. "The Good Parts" are there I guess, but not vulgar. They happen I suppose, but usually fade to black pretty quickly. My recommendation for this scale is a little tricky because I haven't finished the series, but I'm going to put The Crazy Rich Asians series by Kevin Kwan on this rank.
I will say that the drama in these books so far has been incredible and I would say some of the things said to cause drama tend to be spicier than the interactions between the characters. You can ask anyone I know: I LOVE a good train wreck. I love drama and these books bring it. I love it so much so far and I'm hoping to finish book two this week. (To anyone who's finished it: Did I rank it right? Let me know in the comments!)
---
#3 –
Cayenne Pepper

– 10,000 – 100,000 on the Scoville Scale
Level of Spiciness: I guess there's no doubt they like each other now!
This is another series I've recommended on this blog, but I really love it! The Rose Gardner Investigations series is a spin-off from The Rose Gardner series and also has a series running at the same time called Neely Kate Mystery series. The investigations series is much spicier than the original one and I think that's why it was spun off. They're the same characters, but it feels a little darker, the mysteries are more grim, and the girls are tough as nails and Rose isn't falling all over herself for love. The steam factor is definitely there especially if you love the underground crime aspect of this town. Who doesn't love a forbidden love story?
The fourth book comes out next week (isn't the cover GORGEOUS?!), but I would recommend you start from the very, very beginning if you're interested in these mystery books. Rose has a huge growth arc in the beginning that only continues on in the series and it's harder to appreciate if you skip ahead.
---
#4 – 
Habanero

– 100,000 – 350,000 on the Scoville Scale
Level of Spiciness: Holy Forking Shirtballs
Diversity? Check. A sexy prince? Check. A woman with career goals and three dimensions to who she is? Check. Steamy scenes between the two main characters? Check. A wildly implausible story that you can't help, but love? Check. If you haven't figured it out by now, I'm recommending A Princess In Theory by Alyssa Cole in the Reluctant Royals series.
Unfortunately, Houston has taste in books so I have the second book on hold with the library still. HOWEVER, the first one was fantastic. I appreciate a good romance that has a tough woman that doesn't fall all over herself because a man is hot. Naledi damn near fights Prince Thabiso to get out of her life when he lies to her even though their chemistry steams up the pages in the book. And surprise! Her career is actually helpful in this book and not some random fact. It even touches upon workplace sexism women experience in STEM careers. If you haven't read Alyssa Cole yet, what are you waiting for?!
---
#5 –
Red Savina Pepper

– 350,000 – 800,000 on the Scoville Scale
Level of Spiciness: I definitely can't bring this book to work with me to read on my lunch break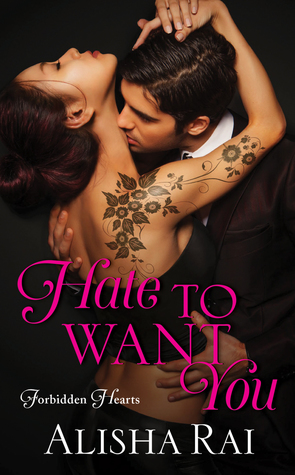 The Forbidden Hearts series by Alisha Rai is the one that inspired this post and the level of chemistry between the couples is off the chart. In fact, I finished the entire series in a week. It's one thing to write sex scenes well, but it's another to have something horrible happen to the characters and have them deal with it in a realistic way.
There's been a lot of trauma in the two families and the couples are understandably effected by that. The characters are flawed even after the happily ever after. In fact, I wouldn't say any of them have the picturesque ending that some romances will speed through the ending to get to. I was recommended this series by a dear friend of mine and we've been waving all the muppet arms that there's another series of books in this universe coming out in 2019. Also I think all the couples are in interracial relationships so A+ on the diversity in these books.
---
#6 –
Pepper X

– 800,000 to 3,200,000 on the Scoville Scale
Level of Spiciness

:

I'm not sure it's socially acceptable to bring a book this spicy out into the public
Last summer, I was asking a group of people for some book recommendations set in a dystopian universe. I'm working on a series of my own that's in a dystopian world and I wanted to explore how far the genre can do. I wasn't interested in the typical books. No Hunger Games, No Divergent, none of that. During this discussion, someone recommended the Beyond series by Kit Rocha, a writing duo that have taken a deep dive in the erotic dystopian romance genre.
I saw someone describe the series as bisexuals that kick ass and save the world. And this is very true. The spiciness level might hurt you though. There's A LOT of sex scenes in these books. I'm not saying that they aren't written well, but I was more interested in the story than all the sex. There was one in particular towards the end of the series that was literally 20-40 pages for one sexual encounter. I started skipping them all to tell you the truth, but the world was very rich and diverse and fascinating which was what I was looking for. But, as the rank indicates, proceed with caution before reading this in public.
---
There's not a pepper hotter than Pepper X (that I know of as of this blog post) so that's it for this week! I hope you enjoyed some of these romance recommendations and that they keep you warm as the temperatures drop; also least for those of us in the northern hemisphere.
Happy Reading!
-KC-